Activate Your Creativity – Sculpt with Frank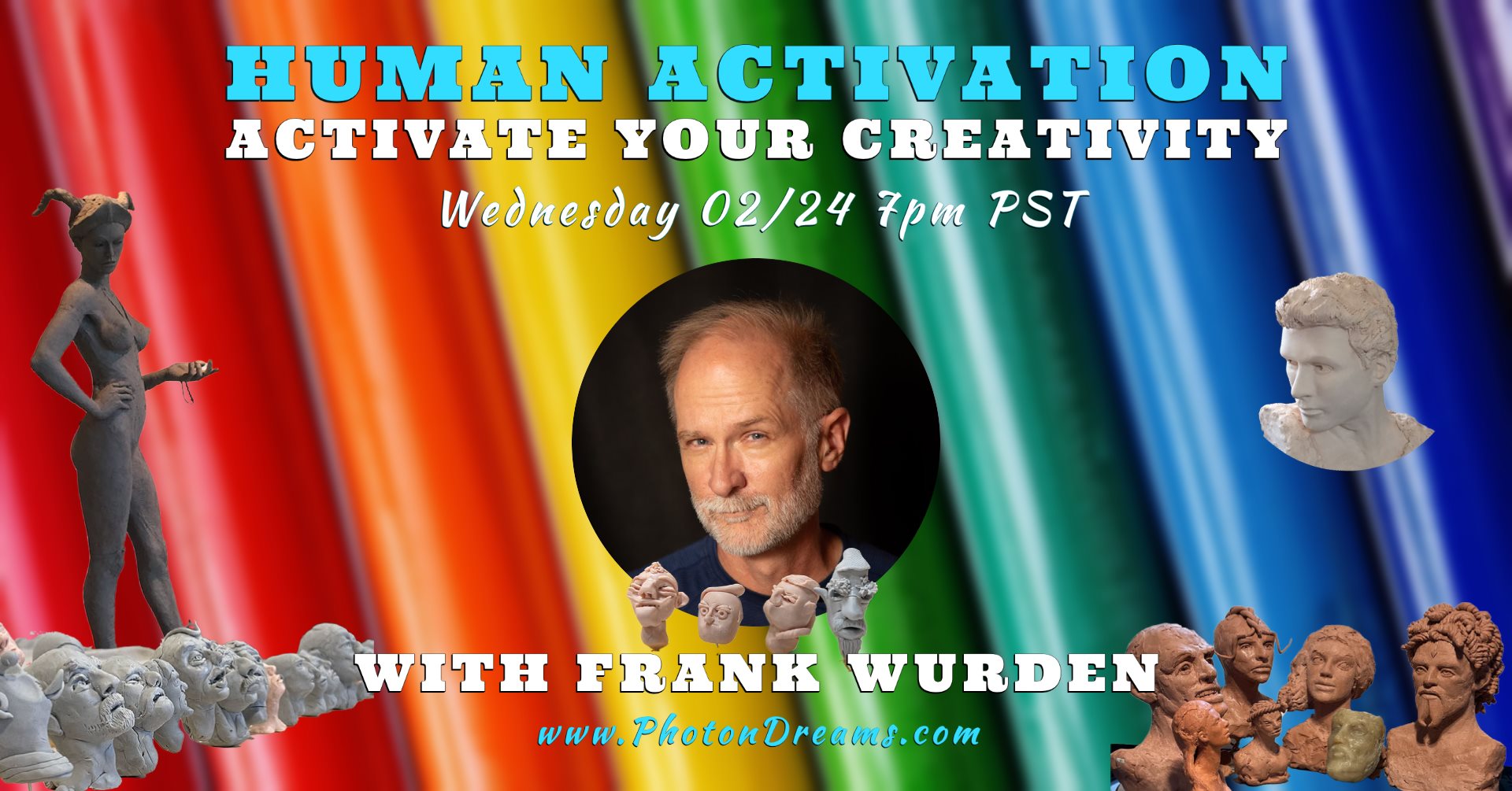 February 24th, 2021
7:00 - 8:00 PM PST
7:00 PM

Intro and Get to know each other

Human Activation is inviting you to an awesome event with artist extraordinaire Frank Wurden!
Come join us, Let's all play together with Clay on Zoom!
Important Notes What To Bring GET SOME CLAY BEFORE YOU ARRIVE AT THIS ONLINE EVENT!
(We would bring it for you but haven't figured out how to teleport it yet)
And a drink (or 3) to enjoy while you sculpt (🍾 🍹 🍺 🍵 ☕️ )
Who Frank Is
The possibility of Inspiration and Love.
Who You Are For Frank
Possibilities of Connection & Creation!
This Event Possibility
The possibility of being lost in the moment, relaxing, breathing and manifesting magic in reality!
This Event Outcome
Having connection, smiles, and authentic fun in creation. Everyone leaves with something out of their ordinary.
What Else To Bring
Clay tools: your hands, clay tools, spoons, butter knife, dental tools, other utensils, be creative!
How Best To Prepare
– Come with no expectations.
– Empty your mind and get ready to create and have fun!

Words from Frank
We are always creating, always in the act of creation, each day, every day. Many times we have nothing physical to show for it. Often it is not with our hands, yet our direct hand – mind connection is so powerful. To get lost in the moment with no real expectations…is special. Personally, for me, clay always brings me back to people. I love to capture an expression, a person, a feeling. However, with a chunk of clay you can make something never seen before…anything. Even a cube…of course I would put a couple of eyes into it and probably a mouth, oh and perhaps a nose and ears…but that is just me🤣! Smash what you create, and make again, or don't. We have all seen drink and draws, and paint and sip, I really want to create a ???? and sculpt. Suggestions?
I have both an art degree (painting) and an engineering degree in which I wrote software as a profession, however my passion has always been figurative sculpture and life drawing so this get-together is my passion. Join me!
Questions?
What do you want to create?
Will you have your clay before Wednesday at 7pm?
Do you have something to drink? 🍺 🍷 🍸 🍹 😆